Hello TuneDroid
February 22nd 2014 - New version 2.03 released!
Fixed Mac installation and service
The TuneDroid sync service is now correctly started and controlled by launchd on Mac systems.
October 1st 2013 - New version 2.0 released!
Improved syncing protocol
We updated the syncing mechanism. It uses less memory now, is faster and is overall more robust.
History View
We added a history view that shows the results for every backup and music sync.
Overall UI improvements
We added and improved many small details in the App.
Other new features
Multiple "home" networks
Reset Music Sync
Selection of Backup folders
TuneDroid is a great tool to automate backup and synchronize music between your Android device and your computer.
TuneDroid synchronizes iTunes playlists to your Android device. You can select any of your iTunes playlists and TuneDroid will make sure that your music is synchronized to your device. With dynamic playlists you will always have the latest music on your phone without having to care about it.
With TuneDroid you don't have to worry to lose any of your pictures or videos. Once you are home they will be automatically copied to your computer. This is also great as your media will be always available on your computer. If you want even instantly.
TuneDroid syncs over WIFI and directly to your computer, not into the "cloud". This gives you the maximum amount of privacy with all the comfort of a cloudbased solutions, like Dropbox or Google Drive. You don't need to setup an account or memorize a password.
You can manage up to three Android devices with one computer and synchronize different iTunes playlists with each of them!
TuneDroid comes with a lightweight desktop application for MAC and PC. It is fast and easy to install.
Get TuneDroid now and always have your photos and videos backed up and your music synchronized. No hassle, it just happens automatically.
How does it work?
TuneDroid recognizes when you are connected to your home network. It then checks at a certain interval if your PC is available, as soon as it can connect to your PC, it will backup all photos and videos that you have taken with your phone since the last successful connection.
After the backup it will continue to synchronize the music on your phone with the iTunes playlists that you have selected. You can select the playlists on your phone or on your PC with our TuneDroid desktop app.
You can see the complete feature list here.
Where is TuneDroid heading from here?
We are currently working to support more music players in the near future.
We are also working on other features that will make the experience of TuneDroid even better.
Sounds interesting?
You can get TuneDroid from our download page and try it for free. You don't have to pay if you don't like it.
The free version has limited functionality, read more about this in our F.A.Q.
Watch our video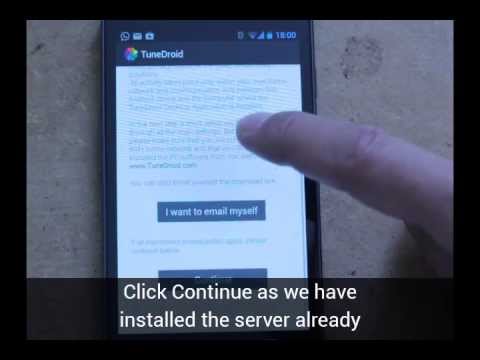 Start using TuneDroid
We're stoked that you like our app and want to use it. You can download the PC software from our download page and then install it. The TuneDroid app is available on Google Play.
Contact
We're always happy about feedback, as we value your opinion. Get in touch with any of the methods below.
Follow @tunedroid on twitter
Tweet us your thoughts about TuneDroid
Like TuneDroid on Facebook
Discuss our latest news and features
You found a bug?
That's great, let us now everything about it on Github and we will fix it.